Great Scott! Did you hear the news?
BIG 101 is doing their own version of March Madness! BIG 101 is putting sixty-four 80's movies head-to-head to determine
"The Best 80's Movie Of All Time" and we need your help!
Some of you might be saying, "Surely you can't be serious?" and our answer is "I am serious. And don't call me Shirley."
We have a winner!
The Best 80s Movie of All Time is:
The Princess Bride!!!!!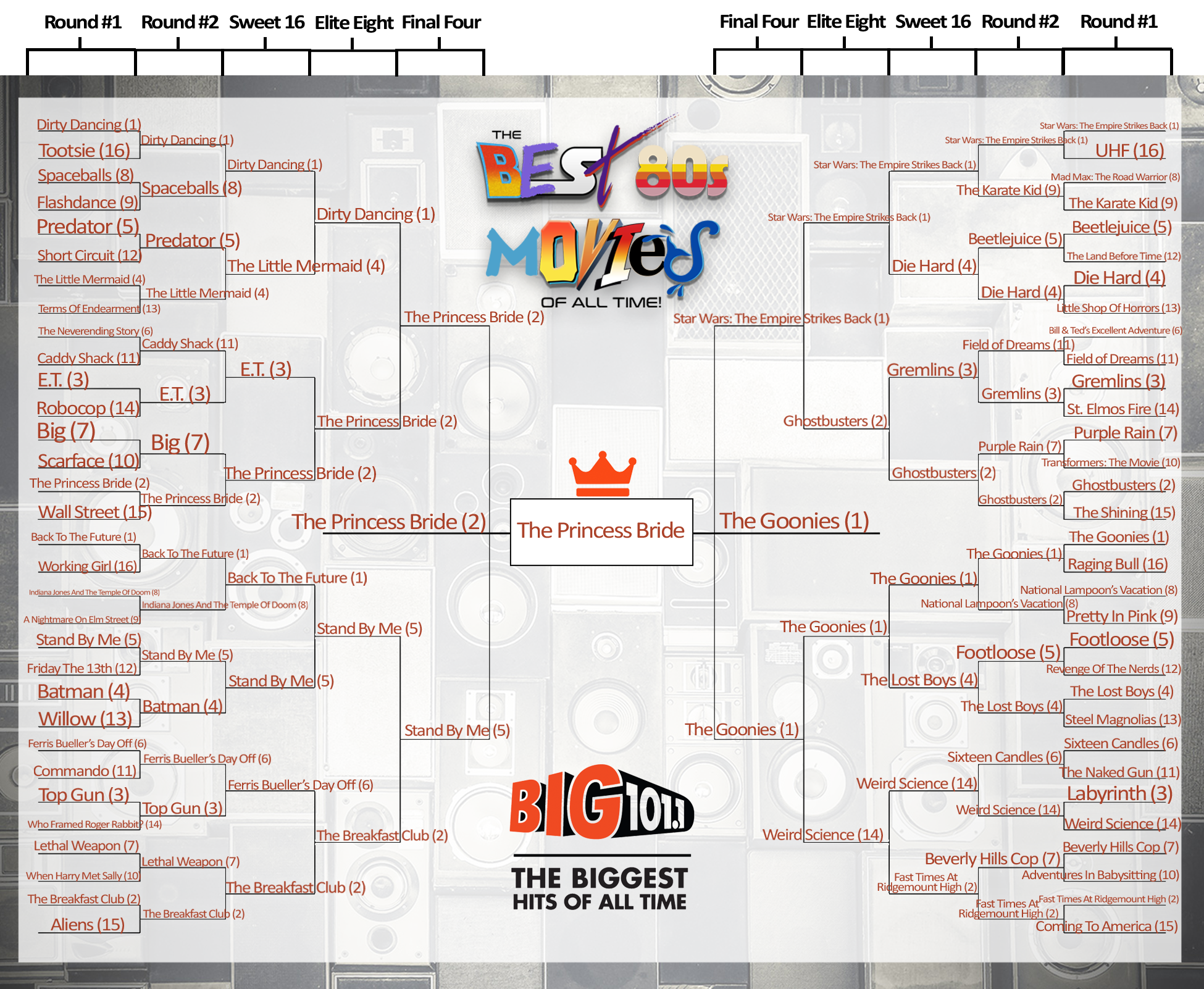 Results
The Winner
Tuesday, April 21st, 2020
The Princess Bride 64% vs. Star Wars: The Goonies 36%
---
Final Four
Monday, April 20th, 2020
The Goonies 78% vs. Star Wars: The Empire Strikes Back 22%
Friday, April 17th, 2020
The Princess Bride 54% vs. Stand By Me 46%
---
Elite Eight
Thursday, April 16th, 2020
Star Wars: The Empire Strikes Back 57% vs. Ghostbusters 43%
The Goonies 82% vs. Weird Science 18%
Wednesday, April 15th, 2020
The Princess Bride 69% vs. Dirty Dancing 31%
Stand By Me 73% vs. The Breakfast Club 27%
---
Sweet 16
Tuesday, April 14th, 2020
Star Wars: The Empire Strikes Back 71% vs. Die Hard 29%
Ghostbusters 96% vs. Gremlins 4%
The Goonies 92% vs. The Lost Boys 8%
Weird Science 63% vs. Fast Times At Ridgemount High 37%
Thursday, April 9th, 2020
Dirty Dancing 83% vs. The Little Mermaid 17%
The Princess Bride 65% vs. E.T. 35%
Stand By Me 57% vs. Back To The Future 43%
The Breakfast Club 72% vs. Ferris Bueller's Day Off 28%
---
Round of 32 Results
Wednesday, April 8th, 2020
The Goonies 72% vs. National Lampoon's Vacation 28%
The Lost Boys 62% vs. Footloose 38%
Weird Science 67% vs. Sixteen Candles 33%
Fast Times At Ridgemount High 74% vs. Beverly Hills Cop 26%
Tuesday, April 7th, 2020
Star Wars: The Empire Strikes Back 75% vs. The Karate Kid 25%
Die Hard  78% vs. Beetlejuice 22%
Gremlins 56% vs. Field of Dreams 44%
Ghostbusters 91% vs. Purple Rain 9%
Monday, April 6th, 2020
Back To The Future 87% vs. Indiana Jones and the Temple of Doom 13%
Stand By Me 60% vs. Batman 40%
Ferris Bueller's Day Off 67% vs. Top Gun 33%
The Breakfast Club 80% vs. Lethal Weapon 20%
Friday, April 3rd, 2020
Dirty Dancing 84% vs. Spaceballs 16%
The Little Mermaid 73% vs. Predator 27%
E.T. 54% vs. Caddy Shack 46%
The Princess Bride 62% vs. Big 38%
---
Round of 64 Results
Thursday April 2nd, 2020
The Goonies 85% vs. Raging Bull 15%
National Lampoon's Vacation 54% vs. Pretty in Pink 46%
The Lost Boys 54% vs. Steel Magnolias 46%
Footloose 69% vs. Revenge of the Nerds 31%
Sixteen Candles 69% vs. The Naked Gun 31%
Weird Science 54% vs. Labyrinth 46%
Beverly Hills Cop 69% vs. Adventures in Babysitting 31%
Fast Times at Ridgemount High 69% vs. Coming to America 31%
Wednesday, April 1st, 2020
Star Wars: The Empire Strikes Back 79% vs. UHF 21%
The Karate Kid 93% vs. Mad Max: The Road Warrior 7%
Beetlejuice 86% vs. The Land Before Time 14%
Die Har 100% vs. Little Shop of Horros 0%
Field of Dreams 71% vs. Bill & Ted's Excellent Adventure 29%
Gremlins 57% vs. St. Elmo's Fire 43%
Purple Rain 57% vs. Transformers: The Movie 43%
Ghostbusters 71% vs. The Shining 29%
Tuesday, March 31st, 2020
Back to the Future 100% vs. Working Girl 0%
Indiana Jones And The Temple Of Doom 76% vs. A Nightmare On Elm Street 24%
Stand By Me 94% vs. Friday the 13th 6%
Batman 53% vs. Willow 47%
Ferris Bueller's Day Off 82% vs. Commando 18%
Top Gun 71% vs. Who Framed Roger Rabbit? 29%
Lethal Weapon 76% vs. When Harry Met Sally 24%
The Breakfast Club 76% vs. Aliens 24%
Monday, March 30th, 2020
Dirty Dancing 85% vs. Tootsie 15%
Spaceballs 58% vs. Flashdance 42%
Predator 58% vs. Short Circuit 42%
The Little Mermaid 76% vs. Terms of Endearment 24%
Caddy Shack 76% vs. The Neverending Story 24%
E.T. 82% vs. Robocop 18%
Big 61% vs. Scarface 39%
The Princess Bride 76% vs. Wallstreet 24%